Once Upon a Time in the North
---
Review
|
Excerpt
|
Press Release
|
Extras
| Purchase:
US
/
UK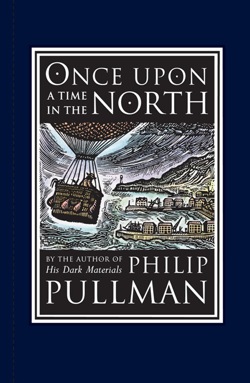 First published in early 2008, Once Upon a Time in the North is Philip Pullman's second companion book to the His Dark Materials Trilogy. Preceding the events of His Dark Materials by 35 years, it follows 24 year old Texan aueronaut named Lee Scoresby (and of course his daemon, Hester). Subsequent to a crash landing on an island in the White Sea, the book follows Lee meeting Iorek Byrnison, acquiring his enduring rifle and his affinity for the Arctic.
In the press release, Philip Pullman said, "Writing this story was a matter of pure enjoyment. The two characters at the heart of it, Lee Scoresby and Iorek Byrnison, were old comrades-in-arms when Lyra met them first in Northern Lights. I hope readers will enjoy this tale of the first meeting between these two honourable but down-at-heel adventurers."

Pullman consistently meets his own high standard of story telling, creating vivid environments and memorable characters for the reader to wallow in. Some of the most enjoyable parts of the book come from the readers' opportunity to revisit some of our most loved characters. We gain insight into Lee and Iorek's unwavering trust of the other, as well as enjoying Hester and Lee's pugnacious companionship.
The book itself is beautiful, featuring a hard back cover bound in blue cloth, a striking addition to any bookshelf. It is accompanied by a number of extras that allow the user to delve deeper to the world of His Dark Materials, including: an excerpt from The Elements of aerial Navigation, a bill of lading for Lee's balloon and equipment, a page from The "Shipping World" Year Book, a newspaper article offering a different viewpoint of events, two letters from Lyra while at St. Sophia's College, Oxford and Lyra's certificate for submission of her dissertation.
This little blue book may not be the final companion book, as in August 2007, Pullman mentioned, " Lyra et les Oiseaux [Lyra's Oxford] was a dark red book. Once Upon a Time in the North will be a dark blue book. This still remains a green book. And that's will be Will's book. Eventually..." Maybe that green book will surface soon, completing the set of companion books on our shelves.

Our reviewer said, "The book, as with much of Pullman's writing, works on a number of levels and is guaranteed to satisfy all readers, regardless of age". Read the full review here.
This section was written by Nanaki.