Audiobooks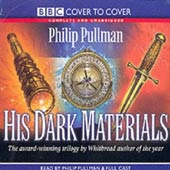 Purchase the Audiobooks:
US / UK)
These entirely unabridged audiobooks are narrated by Philip Pullman with performances from a full cast.
8 cassettes - 10hrs, 49mins - ISBN 0 7540 7077 8
Set in a parallel world very close to our own, Northern Lights tells the compelling story of 12 year old Lyra's quest to rescue her friend and find her father, aided by her daemon, an armoured bear and a witch queen. This prize winning tale is narrated with vigour and dynamism by the author and full cast.
Lyra - Joanna Wyatt
Pan - Rupert Degas
Lord Ariel/Iorek - Sean Barret
The Master/Farder Coram - Stephen Thorne
John Faa/Iofur - Douglas Blackwell
Kaisa - Andrew Branch
Serafina/Roger - Susan Sheridan
Mrs Lonsdale - Alice Rosenfeld
Martin Lanselius - Stephen Grief
Jotham Santelia - David Graham
Lee - Garrick Hagon
Stelmaria - Lisa Ross
The Chaplain - Hayward Morse
The Dean - John O'connor
Children
Rachel WOlf
Anna Coghlan
Alexander Mitchell
Harriet Butler
Fiona Lamont
Andrew Lamont
8 cassettes - 8hrs 55mins - ISBN - 0 7540 7113 8
Will is twelve years old and has just killed a man. On the run, he steps through a window into another world, and finds a strange, savage little girl called Lyra. Both children have a mission, and they decide to help each other. But the world of Cittagazze is a strange and unsettling place, where deadly soul-eating spectres roam. And in the mysterious Torre degli Angeli lurks Cittagazze's most important secret - an object which people from many worlds would kill to possess.
Lyra - Joanna Wyatt
Pan - Paul Panting
Will - Stephen Webb
Stanislaus Grumman - Julian Glover
Joachim Lorenz - Tim Bentinck
Giacomo Paradisi - Doulas Blackwell
The Angel/Sergei - Nigel Carrington
Angelica - Emma D'Inverno
Lena Feldt - Juta Kamainen - Teresa Gallagher
Ruta Skadi - Eve Karpf
Mary - Kate Lock
Paolo - Arthur Mitchell
Inspecter Walters/The Archeologist - Gordon Reid
Sam Cansino/Umaq - William Roberts
Mrs Cooper/Tortureds Witch - Anne Rosenfeld
Sir Charles/Thorold - Stephen Thorne
Kaisa/Alan Perkins - Andrew Branch
Mrs Coulter - Alison Dowling
Serafina - Susan Sheridan
Martin Lanselius - Stephen Grief
Lee - Garrick Hagon
Hester/Mrs Parry - Liza Ross
Fra Pavel/Oliver Payne - Hayward Morse
The Children Are Performed By:
Harriet Butler
Laura Donovan
Andrew Lamont
Fiona Lamont
Alexander Mitchell
Arthur Mitchell
Lyra and Will, the two ordinary children whose extraordinary adventures began in The Golden Compass and The Subtle Knife, are in unspeakable danger. With help from Iorek Byrnison the armored bear and two tiny Gallivespian spies, they must journey to a dank and gray-lit world where no living soul has ever gone.
All the while, Dr. Mary Malone builds a magnificent amber spyglass. An assassin hunts her down. And Lord Asriel, with troops of shining angels, fights his mighty rebellion, a battle of strange allies- and shocking sacrifice.
As war rages and Dust drains from the sky, the fate of the living- and the dead- finally comes to depend on two children and the simple truth of one simple story, bringing Philip Pullman's His Dark Materials to an astonishing conclusion.
Lyra - Joanna Wyatt
Will - Peter England
Pantalaimon - Richard Pearce
Kirjava - Jane Collingwood
Mary Malone - Kate Lock
Balthamos - Alec McCowen
Baruch - Nigel Carrington
Iorek Byrnison/Lord Asriel/Reader of Poems - Sean Barrett
Mrs. Coulter - Alison Dowling
Salmakia - Denica Fairman
Stelmaria/Madame Oxentiel - Liza Ross
Tialys - David Timson
Lord Roke - Nigel Lambert
Serafina Pekkala / Roger - Susan Sheridan
Atal/Ama - Teresa Gallagher
Xaphania - Eve Karpf
No-Name - Jill Shilling
Ghost of John Parry - James Greene
Ghost of Lee Scoresby - Garrick Hagon
Fra Pavel - Nigel Anthony
Otyets Semyon/Boaman/John Faa - Douglas Blackwell
Father Gomez/Dr. Cooper - Andrew Branch
King Ogunwe - Burt Caesar
Dirk Jansen/Peter - Rupert Degas
Angelica/Female Martyr - Emma D'Inverno
Lyra's Death - Ken Drury
Pagdzin Tulku / Granny's Death - David Graham
Metatron - Stephan Greif
Basilides - Hayward Morse
Father McPhail - Alex Norton
Teacher, Thin Man - John O'Connor
Dame Hannah - Anne Rosenfeld
The Inquirer/Sattamax/Farder Coram - Stephen Thorne
Executive Producer: Bruce Coville
Director: Garrick Hagon for The Story Circle
Recorded at: BBC Broadcasting House, London, England
Recording Engineer: Tim Sturgeon
Post-production Editor: Wolfgang Dienst
Music: Peter Pontzen